Presse mitteilung von Bridgestone :
For immediate release
Brussels, 30th November 2009
New Battlax BT-023: a "full spec" sport touring tyre
Bridgestone has developed the new Battlax BT-023 tyre for consistent high-level performance in both touring and sport riding. By combining good wear life and wet performance for touring, with the grip and steering control for sport riding, the Battlax BT-023 provides a wider range of choices for larger bikes.
Consistent sport-touring performance
Bridgestone aims to strengthen its position in the sport-touring sector of the replacement motorcycle tyre market with the launch of the Battlax BT-023 in February 2010. The advanced new tyre significantly upgrades the performance of the
BT-021 it replaces, both in the key touring areas of mileage and wet performance, as well as by meeting the handling expectations of the most demanding sport riders.
Mileage – wet performance
The tyre provides superb wear life and wet cornering thanks to the re-designed angle-groove pattern and Silica Rich Ex compound with "RC polymer".
Comfort and stability
Both the front and rear tyres are constructed with Bridgestone's proven Mono Spiral Belt (MSB) technology, providing top-level grip, shock absorption and straight-line stability at speed.
With a 3 Layer Compound (3LC) on the rear tyre, the shoulder compound gives reassuring grip through corners while the centre compound with its wide contact area adds stability and smoothness when cruising. The result is a confident ride, with rich feedback and a secure contact feel in all conditions.
"The Battlax BT-023 is an important launch for Bridgestone" says Gunther Podevyn, Senior Manager Motorcycle Tyre Products, Bridgestone Europe. "Sport-touring is the largest market sector and with the BT-023 we have a product that can deliver full-spec performance at a high level. We expect strong sales, especially through our new Bikers' Club outlets across Europe."
The Battlax BT-023 will be introduced with 5 sizes for the front (60 to 80 series) and 7 sizes for the rear (50 to 70 series). An optional specification will also be available for heavyweight bikes such as the BMW K1300GT (120/70ZR17 and 180/55ZR17). With a special pattern and cross belt construction on the front, combined with an MSB + 1 belt rear construction, this option is designed to give heavier bikes light handling, sharp braking and long wear life.
The new Battlax BT-023 will be available in European markets from February 2010.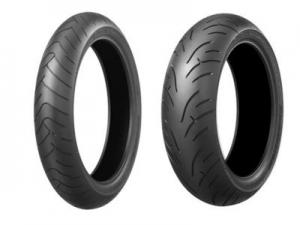 MfG
Hans